UNOCI rescues injured in Abidjan-Divo road accident.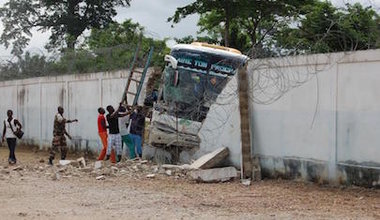 Peacekeepers of the United Nations Operation in Côte d'Ivoire (UNOCI) based in Divo, 177 km from Abidjan, on Monday, 16 March, 2015, helped rescue victims of a tragic traffic accident on the Abidjan-Divo highway.



At around 10:30 am, UNOCI staff working in Divo was informed that a public transport minibus travelling from Abidjan, with 70 passengers on board, had crashed into the perimeter wall of its headquarters. The accident happened after the minibus collided with a truck transporting palmoil to Abidjan.



After local police and gendarmerie were immediately informed of the accident, UNOCI's civilian and military staff sent a team of medical experts and peacekeepers to the scene. The team helped rescue the wounded who were still trapped inside the two vehicles involved in the accident.



UNOCI's medical team provided first aid care to some of the wounded and evacuated the seriously injured to hospital in Divo.