UNOCI hands over rehabilitated Man Prison to authorities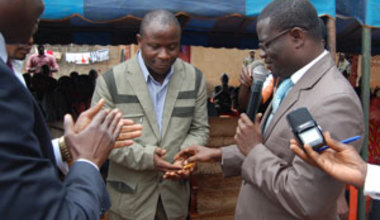 The UN Operation in Cote d'Ivoire (UNOCI) on Tuesday 25 June handed over the keys of the Man Prison, 600 km west of Abidjan that was partially rehabilitated with funds from UNOCI Quick Impact Project programme.



During the handing over ceremony, the State Counsel for the Man Court of First Instance, Kanga Yao said thanks to this project, UNOCI was helping in reducing the feeling of insecurity of the prison staff and creating a better environment in the prison environment.



"UNOCI, the entire UN System and development partners consider that the resolution of the security challenges is fundamental to the crisis resolution process and a step forward for development," Mr. Yao said.



The regional coordinator of UNOCI Rule of Law Office, Luc Sogo Zina said the rehabilitation project estimated at CFA 12.3 million francs (24600 USD) was part of a series of projects sponsored by UNOCI throughout the national territory to improve prison conditions.



The representative of the Prefect of Tonkpi region and called on the beneficiaries to make good use of the premises and urged other partners to emulate UNOCI's example.