UNOCI and partners discuss impact of National Strategy for Social Cohesion on the security sector and relationship between civilians and military.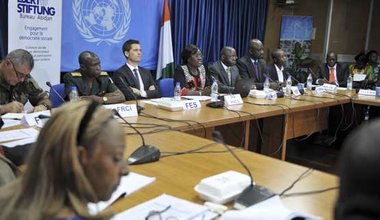 The United Nations Operation in Côte d'Ivoire (UNOCI), through its Security Sector Reform Division (SSR) on Tuesday, 1 December 2015, organized the 31st edition of its lunchtime debate, known as Brown Bag Lunch (BBL), in collaboration with the Friedrich Ebert Stiftung (FES) Foundation and the Centre for Research and Action for Peace (CERAP).



For this edition, the invited panel examined the impact of the National Strategy for Social Cohesion on the security sector and the relations between civilian and military. Professor Mariatou Koné, the Director-General of the National Social Cohesion Programme (NSCP) was the main speaker.

In his opening remarks, UNOCI's Principal Deputy Special Representative of the UN Secretary for Côte d'Ivoire, Simon Munzu, highlighted the importance of discussing national reconciliation and social cohesion.



"If there is one area in which there is urgency to get results it is national reconciliation and social cohesion, because the health of the nation as a whole, actually depends on these two factors. These two areas of interest involve all Ivorians, irrespective of age, regardless of gender, religion, ethnicity or social status," said Mr. Munzu.



He then recalled that the UN Security Council Resolution 2226 (2015) mandates UNOCI to assist the national authorities in this regard.

Professor Kone, in her contribution, explained that the National Strategy was a document that will serve as a compass to help the Government take several measures to ensure that social cohesion, national reconciliation and the healing processes are conducted in a very positive way.



The Strategy, said Professor Kone, has three main areas. The first deals with national reconciliation, the second examines social cohesion and the third is on enhancing human security, organized crime and juvenile delinquency.

Professor Kone then restated the objective of the document regarding the security forces. "The document has to guarantee agreement between the Defence and Security Forces, its different entities such as the Gendarmerie, the Police and the Army. The document should help the people identify with the uniformed men and trust them," she added.



She also pointed out that the different crises in Côte d'Ivoire had erected a wall of mistrust between the people and the security forces.