Special Representative decorates six officers of UNOCI Penitentiary Affairs Section
The Special Representative of UN Secretary-general in Cote d'Ivoire, Mrs. Aichatou Mindaoudou on Wednesday 27 August 2014 decorated six penitentiary administration officers of the UN Operation in Cote d'Ivoire (UNOCI) deployed in various prisons in the country for concrete services rendered to the nation.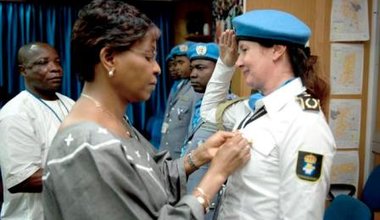 On behalf of the UN and its Secretary-general, Mrs. Mindaoudou hailed and thanked the recipients including those in service as well as those who had ended their tour of duty « for sparing no effort toward the realization of the objectives of the mandate for the restoration of peace in Cote d'Ivoire. »








She recalled that the Penitentiary Affairs Section of UNOCI had, in collaboration with national authorities, contributed to concrete actions that resulted in the improvement of penitentiary infrastructures, conditions of detention, capacity-building for national penitentiary staff, health care for detainees and the implementation of quick impact projects.



The UNOCI head said these accomplishments can be seen in the production activities such as the fish farming project in Tiassale, the semi open agricultural prison in Saliakro, the rehabilitation of infirmaries in a dozen prison establishments and the reinforcement of security in prisons.



Mrs. Mindaoudou declared that the Penitentiary Affairs Section was « one of the major pillars in the criminal justice system whose actions led to the respect for the rights of detainees. »



Recipients of medals of honour included nationals from Burkina Faso, Cameroon, Sweden, and Rwanda.