Anouanzé Public Primary School offers better conditions to pupils thanks to UNOCI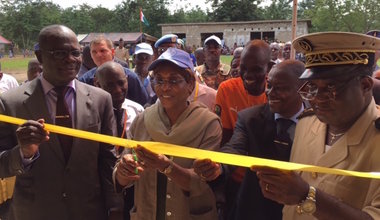 The 200 pupils who attend Anouanzé Public Primary School will from now be studying under better conditions thanks to the United Nations Operation in Côte d'Ivoire (UNOCI).



For the UN Mission has financed the building and equipping of three classrooms and one office for the school's director at a cost of 11,958,000 FCFA in the school in Barry-Chantier village through its Quick Impact Projects programme (QIPs). The aim of the project is to contribute to promoting social cohesion between the nine communities who make up the village.



Anouanzé Public Primary School in Barry-Chantier village is in the sous-préfecture of Ogoudou, situated at some 30 km east of Divo in the region of Loh-Djiboua in centrewest Côte d'Ivoire.



The project was inaugurated on 20 November 2015 by the head of UNOCI, Mrs Aïchatou Mindaoudou, in the presence of the Prefect of the Region and Divo Department, Kpan Droh Joseph, pupils,teachers, local officials as well as residents of Barry-Chantier village in the school's compound.



In her address to the gathering, Mrs Mindaoudou, said that « this project will benefit children from the nine villages that make up Barry-Chantier. It will also promote social cohesion between the communities," she added. The head of UNOCI expressed the hope that the initiative « will give children the opportunity to get to know each other, live together peacefully and develop solid links of brotherhood and friendship to build tomorrow's society».



For his part, the chairman of the school management committee, Mr. Kouadio Konan, expressed his satisfaction with the completion of the project. The Prefect of Loh-Djiboua Region and Divo Department, Mr. Kpan Droh Joseph, thanked the Special Representative for UNOCI's actions to help local people.. «You have accompanied us in the crisis-resolution process and today you are with us to consolidate the relationship between people. Thank you for all that you have done for the well-being of our people," said Mr. Kpan Droh Joseph, while urging the children to work well in school.



The ceremony ended with a visit to the new building which also received financial help from the Swiss Embassy in Côte d'Ivoire to build another three classrooms increasing the number of classrooms to six, and toilets.



Finally to help with the lack of school stationery, the Special Representative announced that UNOCI will donate exercise book and pens to the Anouanzé primary school pupils.